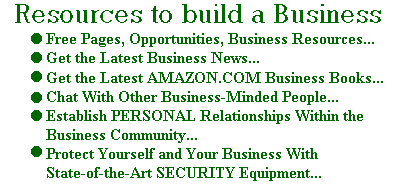 Welcome to
The Online Business Builder
Chat Service
Clearinghouse approved


Follow these steps:
Step One
You must become a member of TRIPOD. This membership is FREE and your information is not made available to other parties. Read the FAQ to learn more about Tripod's policies. Then either follow the appropriate link from the FAQ page to register, or hit the BACK button on your browser to return here and follow this link for a 30-second registration form.
Step Two
Hit the BACK button on your browser as many times as is necessary to return you to this page and start your chat.
You can make this service worthwhile by emailing your business friends and acquaintances to visit The Online Business Builder and register for the FREE chat service. Hopefully, with time we will get a good community of business-minded people using this service to discuss current topics and issues.
Good Luck!


| Home Page | Business Opportunities | Savings | Internet Services | Business Bookstore |
| Business Resources | Business News | BizWorld Chat | BizWorld Personals |
| Add URL | Site of the Week | Free Report | SubmitALL |
Member of the Internet Link Exchange

---
Copyright 1995, AAAMarketing Worldwide Resources. These pages are intented for the exclusive use of AAAMarketing Worldwide Resources. E-mail: jacobs@nbnet.nb.ca.