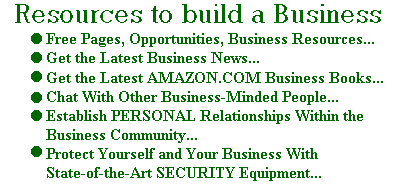 Welcome to
The Online Business Builder
Links to Business Resources


Clearinghouse approved





This site, a free service of AAAMarketing Worldwide Resources, gathers links to resources that can help entrepreneurs develop their ideas and opportunities.
We aim to provide as complete a set of resources as possible thus minimizing your need to seek contacts elsewhere. While we certainly have not achieved this at our present stage of development, the resources are increasing daily and with time this site will be valuable for entrepreneurs and a "one stop" source for business planning and growth. In the meantime, if you own a resource or know of a resource which could benefit from exposure on this site, please email us with the complete details.
Although AAAMarketing does its best to screen every resource which gets listed here, we cannot endorse or recommend any one resource and cannot be responsible for the kind of feedback you receive. We recommend that you investigate fully before any particular service is used.
---
The following list of categories is given to help you more quickly locate specific services. With time this list will grow as we revise and update it to reflect the growth of the resource.
---
Accounting and Bookkeeping

---

Advertising Services (some are free)

---

Artistic Services

---

Associations

---

Business Opportunities

---

Business Planning

---

Business Supplies

---

Chambers of Commerce

---

Communications

---

Consulting Services

---

Directories

---

Export Trade

---

Farmer's Corner

---

Financial Institutions

---

Internet Services

---

Investing and Venture Funds

---

MagazinesNewsletters Online

---

Marketing

---

News and Information

---

Software

---

Training

---

Other links that have provided reciprocal links
---
Watch for changes and additions! Last updated 97/01/02


| Home Page | Business Opportunities | Savings | Internet Services | Business Bookstore |
| Business Resources | Business News | BizWorld Chat | BizWorld Personals |
| Add URL | Site of the Week | Free Report | SubmitALL |
Member of the Internet Link Exchange

---
Copyright 1995, AAAMarketing Worldwide Resources. These pages are intented for the exclusive use of AAAMarketing Worldwide Resources. E-mail: jacobs@nbnet.nb.ca.